KONTOUR™ Rotary Steerable System
The KONTOUR™ rotary steerable system is SIMPLICITY in ACTION. The tool is a robust integration of very few components.
KONTOUR™ brings a unique, patented design of Automated Rotary Steering System to market, for improved directional and horizontal wellbore placement.
A powerful electro-mechanical system controls two internal sleeves that provide curvature (or DogLeg) and tool face control on-demand or through automated self-steering control.​
The ability to alter dogleg and tool face independently enables precise control in proportion to what is required to precisely achieve the well placement objectives. This ensures the smoothest, least tortuous wellbore possible.​
Improved Reliability & Efficiency
Four main components are assembled to provide the tools' framework. Fewer components enhance reliability and improve the running cost of the system. The precise, independent tool face and dogleg control, ensures SMOOTH transition of well geometry and minimizes microtortuosity.​
The KINETIC KONTOUR™ system decouples its' rotating drillstring from its' steering housing, slowing the duty cycle required on the system.​ This improves reliability and steerability.​
The slower rotation of the KONTOUR™ steering mechanism enables the four-dimensional control of an internal offset within the tool, not paddles or pistons. The offset generates large bit deflections and side forces, in precise proportion to what is required for the directional plan.​
Slow is smooth and smooth is fast!​
Why make KONTOUR™ part of your drilling program?
Faster ROP and more accurate well placement with 100% drillstring rotation
Continuous proportional steering provides smoother, faster-drilled wellbores
Industry-leading 0 to 17°/100-ft dogleg capability
The lowest total cost of ownership system available
How to get started on improving cost-effectiveness and efficiency on your energy projects?
KINETIC IS, Unconventional Innovation. KINETIC IS, the right partner for your drilling operations, we
help and support our customers thrive in drilling complexity. Our proven experience and teamwork approach inspire
Proactive innovation, helps you mitigate risk to promote revenue and competitive advantage.
KINETIC Upstream Technologies is the best Automated drilling solution.
Historically, high end drilling technologies like Rotary Steerable Systems were designed to attend high dollar offshore operations. Land Operators were forced to sacrifice performance to save cost.
KINETIC Upstream Technologies is a game changer, we combine unique Engineered technologies with a back-to-basics philosophy in collaboration with industry innovators. We provide solutions to markets looking to increase drilling efficiency, improving wellbore placement and accuracy, increasing effective pay zone exposure, resulting in production gains and better ROIs.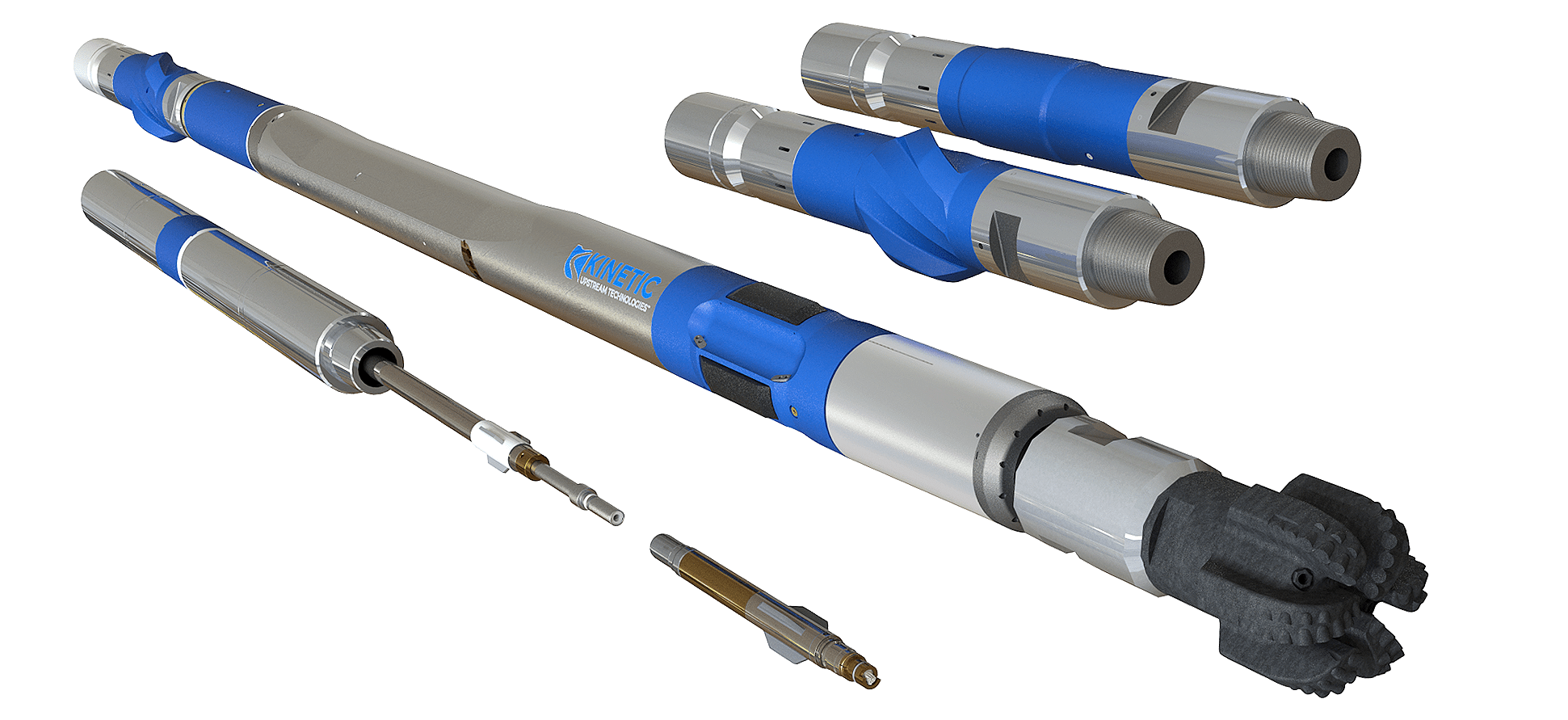 We offer Unique Features and Benefits that set us apart from competitors
KINETIC systems are rated for 175˚c /347˚f
KINETIC systems achieve higher Dog leg rates than most systems in the market, up to 17deg/100ft
KINETIC systems are engineered to achieve a Vertical, Curve and Lateral wellbore profile. "One Run- One BHA"
KINETIC systems are designed to be remote location serviceable at the lowest cost to maintain
KINETIC's wireless short hop open architecture enables customers to utilize their own MWD/LWD, PDM, and Bit technologies seamlessly with KINETIC
KINETIC unique automated self-steering systems incorporate AI learning algorithms for accurate directional control
Additionally …
KINETIC™ systems are NOT the limiting design factor in your drilling string!
Here are the reasons :
No backpressure requirements for steering control
500+ RPM capacity
No LCM limits
800 GPM flow rate capacity
Not vulnerable to stick slips