KINETIC Upstream is an Innovative developer of drilling optimization technologies. We are market-driven and work in a collaborative effort with our customers to clearly understand their challenges, then craft unique solutions to improve their well construction economics, simplifying wellsite operations and reducing NPTs.
Our diverse team has vast years of experience in drilling operations and creative technology development. KUT safely unlocks access to energy reserves, with Oil and Gas start-ups, independent producers, and service companies looking for Rotary Steerable alternatives.
We complete your fleet.  We share the latest generation drilling automation in any asset.  With more than 4 years working in the shop and the field without HSE incidents or accidents to report. We are tangible proof of experienced people working as a TEAM.
We innovate, design, and deploy drilling technologies, with agility and responsiveness to customer needs, which are intuitive to utilize and vastly improve the cost to produce hydrocarbons.​
We strive to develop technology solutions that are reliable, efficient, value-driven, and adaptive.
We are trusted advisors because of our talented and extraordinary people. They are the core of our business and success. Always adapting and constantly innovating, we go beyond cultural and technological frontiers. We believe our diversity makes us stronger, smarter, and more innovative, helping us better serve the needs of our customers.
KINETIC Upstream Technologies is the best Automated drilling solution.
Historically, high end drilling technologies like Rotary Steerable Systems were designed to attend high dollar offshore operations. Land Operators were forced to sacrifice performance to save cost.
KINETIC Upstream Technologies is a game changer, we combine unique Engineered technologies with a back-to-basics philosophy in collaboration with industry innovators. We provide solutions to markets looking to increase drilling efficiency, improving wellbore placement and accuracy, increasing effective pay zone exposure, resulting in production gains and better ROIs.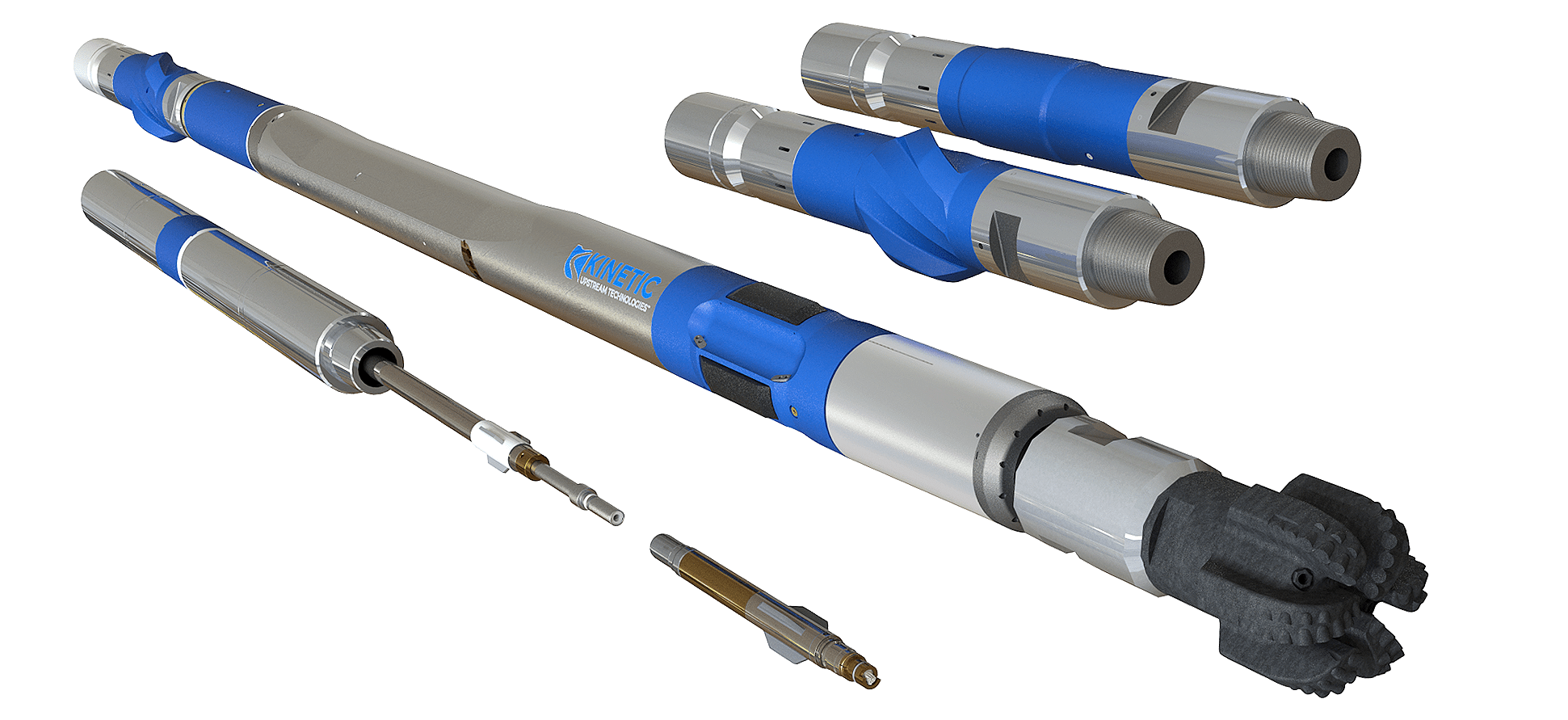 We offer Unique Features and Benefits that set us apart from competitors
KINETIC systems are rated for 175˚c /347˚f
KINETIC systems achieve higher Dog leg rates than most systems in the market, up to 17deg/100ft
KINETIC systems are engineered to achieve a Vertical, Curve and Lateral wellbore profile. "One Run- One BHA"
KINETIC systems are designed to be remote location serviceable at the lowest cost to maintain
KINETIC's wireless short hop open architecture enables customers to utilize their own MWD/LWD, PDM, and Bit technologies seamlessly with KINETIC
KINETIC unique automated self-steering systems incorporate AI learning algorithms for accurate directional control
Additionally …
KINETIC™ systems are NOT the limiting design factor in your drilling string!
Here are the reasons :
No backpressure requirements for steering control
500+ RPM capacity
No LCM limits
800 GPM flow rate capacity
Not vulnerable to stick slips