Operational & Technical Support
Our first priority is the safety of our people, our customers, and the environment, whether at home, workshops, or in our customer field operations. We have young educated talented individuals, working shoulder to shoulder with a very strong diverse team of professionals.
People working with safety, commitment, and passion to fulfill and exceed our customer's expectations. We believe in the combination of highly experienced professionals coaching and mentoring the new members of our team to create a multi-cultural, multi-generational, inclusive, working environment.
This is the MOST VALUABLE ASSET KINETIC has……. Our people.
We provide a good working environment, deliver value to our customers, and optimize drilling operations with the latest technology developments. Our crews have international experience in the MENA region, China, and US land.
KINETIC UPSTREAM TECHNOLOGIES is prepared for a great and bigger future.
We developed a Quality Management System with a solid HSE foundation. A permanent loop of interaction, data sharing, new processes, and procedures between our Engineering and Development team – Operations - Manufacturing gives us the ability to respond with improvements in firmware, software, and design enhancements.
Safe, reliable, innovative technology deployment.
KINETIC is a technology developer where we are creating a virtual working environment, which is very important these days. We have many years of experience managing REAL-TIME Operations.
With this platform, we are monitoring our technology and listening to our customers and our field operations team to have a fast response, leveraging knowledge and experience in every job we deploy.
When you work with KINETIC, you can count on our support 24/7. Currently, we are conducting operations in Mena, Asia, and the US.
We listen, we understand, and we act …. You can count on it!
KINETIC Upstream Technologies is the best Automated drilling solution.
Historically, high end drilling technologies like Rotary Steerable Systems were designed to attend high dollar offshore operations. Land Operators were forced to sacrifice performance to save cost.
KINETIC Upstream Technologies is a game changer, we combine unique Engineered technologies with a back-to-basics philosophy in collaboration with industry innovators. We provide solutions to markets looking to increase drilling efficiency, improving wellbore placement and accuracy, increasing effective pay zone exposure, resulting in production gains and better ROIs.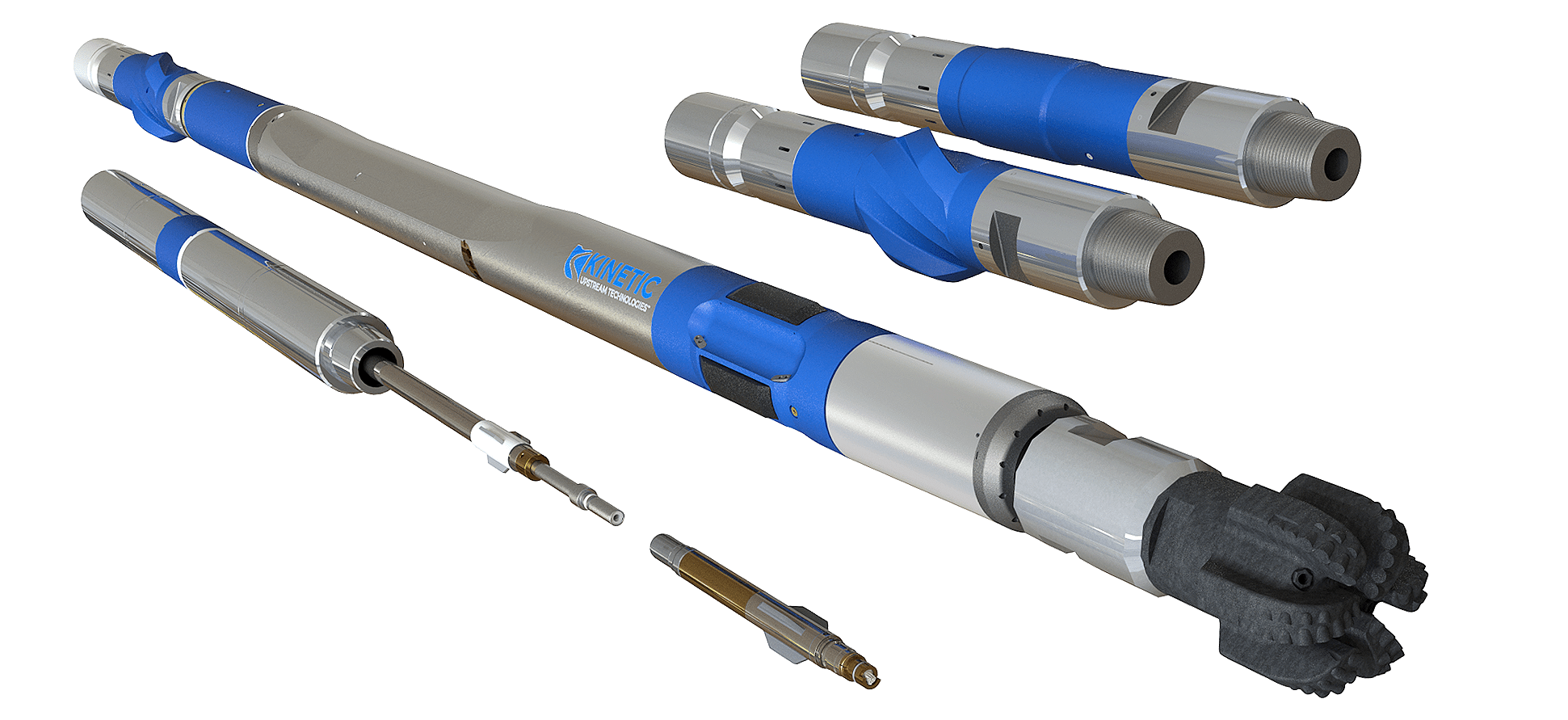 We offer Unique Features and Benefits that set us apart from competitors
KINETIC systems are rated for 175˚c /347˚f
KINETIC systems achieve higher Dog leg rates than most systems in the market, up to 17deg/100ft
KINETIC systems are engineered to achieve a Vertical, Curve and Lateral wellbore profile. "One Run- One BHA"
KINETIC systems are designed to be remote location serviceable at the lowest cost to maintain
KINETIC's wireless short hop open architecture enables customers to utilize their own MWD/LWD, PDM, and Bit technologies seamlessly with KINETIC
KINETIC unique automated self-steering systems incorporate AI learning algorithms for accurate directional control
Additionally …
KINETIC™ systems are NOT the limiting design factor in your drilling string!
Here are the reasons :
No backpressure requirements for steering control
500+ RPM capacity
No LCM limits
800 GPM flow rate capacity
Not vulnerable to stick slips